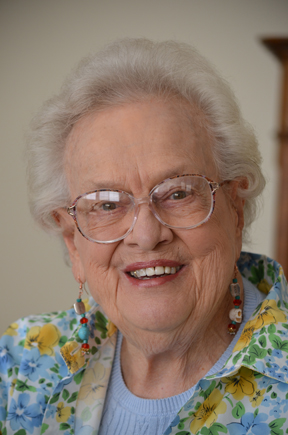 (Green Valley News) It's no surprise that friends and neighbors consult Martha Tompkins when they have a health question or need medical advice.
Tompkins, 90, tells them to talk to their doctors, but with her distinguished career as a nurse and ongoing interest in the field, she prides herself in staying up on the latest in health care.
Tompkins is also a proud veteran, and her stint as a World War II Army nurse in the Philippines and Japan provided the kind of experiences history buffs relish hearing first-hand.
During her military service, she served as Lt. Martha Drage. She married Lowell Tompkins in Green Valley in 1996, after the death of her first husband; they live at La Posada.
Born in Highland Park, Mich., Tompkins was the daughter of Norwegian immigrants who insisted she get a good education. She graduated from the University of Michigan in 1943, with a nursing degree.
Tompkins started working in the surgical clinic at Alexander Blair Hospital in Detroit with 82 beds. Her 12- to 16-hour days were made longer by the bus and streetcar trips to the hospital.
By chance, she was asked to step in and work in the hospital's operating room when another nurse took time off to visit her husband before he was sent overseas.
"The operating room is where I felt needed," Tompkins recalled. "I learned so much and I was so hungry to learn. Little did I know how beneficial it would be when I eventually became an Army nurse."
"I'll never forget the day I enlisted in the military. It was my dad's birthday, Jan. 31, and we had one emergency in the operating room after another," she recalled. "I missed the birthday dinner, but they promised to save the birthday cake until I got home."
She finished work but barely missed the bus and had time to spare until the next one came along.
"There was an Army recruiting station on the corner," she said. "I was so cold, so tired, so I went in and signed up to serve in the Army Nurse Corps."
Tompkins was sent to Camp Anza and Camp Beal in Northern California for basic training.
"We went through some pretty rigorous physical training, climbing rope ladders and even had to crawl on our bellies under wires like you see the men do," she said. "I didn't have second thoughts about my decision to join, but I knew it would not be easy."
She was prepared to be sent to Europe, but instead was transferred to the Philippines. She realized she and her fellow nurses were going to be a part of the invasion of Japan.
"Over 200 of us nurses departed on July 6, 1945, from Los Angeles on a hospital ship called the Marigold with no patients onboard," she recalled. "Our first stop was Hawaii, where all but 132 of us stayed, and went on to the Philippines. Thirty-six days after we left the U.S., we arrived in Manila. On the trip over I played a lot of bridge along the way with three doctors."
Tompkins recalled that there was "much mayhem" when the nurses arrived in the Philippines, and determined later that it was because the war in the Pacific was coming to an end.
"We had no idea the bomb had even been dropped," she said, referring to Hiroshima on Aug. 6.
The nurses were transported standing up in two-ton trucks across pitted, bombed-out roads to a monastery.
"When we arrived at the monastery, we found that one wall was virtually gone and the empty space was draped," she said. Eighty-two of the nurses were assigned to a huge room there.
"I don't think they expected us all and there was only a two-seater latrine," she said. "When we arrived they ended up building latrines all night for us."
Tompkins said each nurse was issued a cot, a mosquito net, an Army blanket and a knife for protection.
Tompkins recalled being scared the first night in the monastery. Earlier that day, U.S. soldiers had captured 23 Japanese soldiers armed with hand grenades.
"When we were all in our cots and the lights were turned off, I couldn't sleep  — everything was too new and confusing."
Tompkins recalled hearing a noise from a cot about six down from hers.
"I remember hearing a muffled call for help," she said. "I tried to grab the knife and put my foot on the floor to get out but I couldn't move I was so scared. I did find my voice though, and I hollered loudly for help. Soon, all 82 of us were hollering for help."
Tompkins said a Japanese POW had entered the nurses' sleeping quarters through the damaged wall.
"He was probably looking for food and he stumbled over another nurse's cot, scaring her to death," Tompkins said. "Now, there were 24 captured Japanese. From that experience I learned I had courage."
Tompkins lived through the first night and learned a few days later that atomic bombs had been dropped on Hiroshima and Nagasaki.
She and her fellow nurses were assigned to a variety of hospitals. She eventually wound up in a dermatology unit treating patients with jungle rot, a tropical skin disease.
"It was just awful and so demoralizing," she said. "You treated it one day and it looked even worse the next day. These poor men. It was so hot and humid."
Tompkins said her most difficult duty during that time was nursing 150 British prisoners of war who had been interned in Japanese prison camps for more than four years.
"Nursing them was the most rewarding thing for me," she said. "Those men had suffered unimaginable torture. They were starved, all had multiple infections, vitamin deficiencies and more, but they were survivors and they never complained."
Tompkins said the British patients were fed six times a day, and each meal was followed by whiskey and beer.
"They ate and drank everything we gave them and then lined up for sodium bicarbonate pills," she said. We gave them penicillin in beeswax, which required very large needles. Finding a muscle was difficult, if not impossible, given their condition. While I had a very good education at the University of Michigan School of Nursing, nothing could prepare us for the enormity of the task we faced."
Tompkins said all but three of the 150 patients they treated went home and called it "a miracle."
She remained in the Philippines until October 1945, when she was transferred to Japan. She worked in several hospitals while there, including Fukuoka, where she assisted in setting up a hospital in a former post office.
"It was pretty difficult at first because I was the only registered nurse with 10 inexperienced fellows that I was asked to train," she said.
Tompkins said she also had a difficult time with some of the patients in Japan who, because she was a woman, would shout off-color remarks, whistle and catcall.
"I decided that I would command respect and later demanded it," she said. "It was one of the greatest lessons that I learned and I really grew up over there."
She was also assigned to serve in Kakuro, where she and other medical staff help set up hospital wards in a department store and later in Sasebo in a war-damaged Japanese hospital.
"We left for Japan to be part of the occupation," she said. "We nurses were the first women in the occupation. As you can imagine, we nurses went to Japan hating the Japanese. We saw what had been done to the British prisoners of war. But it didn't take us long to change our minds."
Tompkins returned to the United States in May 1946 and went on to a distinguished career in nursing.