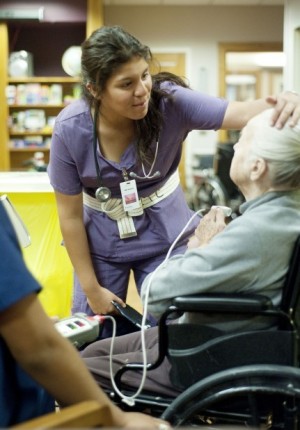 (Trib.com) Dressed in scrubs, recent high school graduate Karen Casillas answered a call for help in a patient's room at St. John's Living Center on a Tuesday last month.
"Hey, girl," she said to the elderly resident. "Are you done eating here so I can take your tray?"
The resident said she was still hungry. She wanted dessert: strawberry and vanilla ice cream in the same bowl.
Casillas obliged, scooping the ice cream from individual cups in the cafeteria, bringing it back to the resident's room and then carefully recording the food in a meal journal.
"That's a pretty good job for an amateur," her patient said jokingly when Casillas returned with the mixed bowl of ice cream,
Casillas was one of five Jackson Hole High School students who spent 36 hours at the nursing home as part of a certified nursing assistant program.
The young adults were scheduled to take written and practical tests Friday to determine if they will receive their Wyoming Certified Nursing Assistant licenses.
The program at the high school is a semester-long, four-days-a-week class with school nurse and educator Annette Eastman.
Becoming a certified nursing assistant is a prerequisite for becoming a nurse, Eastman said.
"The fact that they actually get one of the pre-reqs completely in high school is a huge advantage, and it saves them a lot of money," she said.
While a CNA program at college could cost anywhere from $900 to $1,500, the high school program is free.
This is the program's fourth year at the high school. So far 31 teens have become certified nursing assistants, she said.
"It's a great opportunity for students," Eastman said. "It helps them decide whether they want to go into nursing or not."
Casillas said one of the most important things she has learned is to treat patients as she would treat herself or her parents.
"One of these days, we will be them, and we want them to have the best care," the 18-year-old said.
Fetching dessert is only a small part of being a certified nursing assistant. The students also learned how to care for residents, getting them up, cleaning them and getting them dressed.
"I don't think I'll go into the medical field, but it's a good skill to have and a good opportunity for work," 18-year-old graduate Aaron Carillo said.
Other students, like recent graduate Leyla Martinez and junior Ellie Peterson, are interested in medical careers.
Martinez, 18, wants to become a nurse.
"I like working with people, trying to make them feel better," she said.
Being at the living center was a good way to put their textbook learning into action, she said.
"You actually get to practice your skills, not just on a mannequin," Martinez said.
Peterson, who wants to be a doctor, said she thought the high school's CNA program would be a good start. While the students spent the most time during clinicals at the living center, they also visited the emergency room and intensive care unit at St. John's Medical Center.
"It's way more exciting over here, believe it or not," the 17-year-old Peterson said while feeding a resident a bite of sandwich. "As soon as you get here, you realize you're working with real people, and you can get attached to them really fast."
All the students seemed to genuinely care about the residents they came to know during their 36 hours there.
"I love these people," Casillas said. "They're amazing. When I first got here, I thought they would be mean, old and cranky, but they're funny and adorable."
Those patient connections make it even more important for the students to do a good job.
"I don't want to kill someone if I make a mistake," she said.
The living center staff also took notice of the students' attentiveness to patient care.
Natalie Stewart, a registered nurse, told Eastman they are all well-prepared for their clinical experience, she said.
"'They are respectful of each resident and treat them with compassion and dignity,'" Eastman said, quoting Stewart.
On the last morning there, students discovered during their morning rounds that two residents had died overnight from natural causes.
"We knew they lived a long life and they decided to go on," Casillas said. "I've been to a funeral, but finding them gone is really hard and shocking. I've never experienced that, and I never thought I would. But it's part of this job."
The program has involved long hours, a lot of studying and many things the average teenager doesn't deal with, like death, incontinence or even the whims of elderly patients' dessert cravings.
"It's difficult and challenging, but it will be worth it in the end if I get certified," Casillas said.