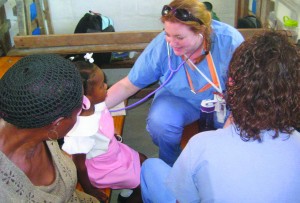 (PostOnline) When Jayne Lewis arrived in Haiti last month, she was struck by how little had changed since a 7.0-magnitude earthquake devastated the poor Caribbean nation two years ago.
There was trash everywhere in the capital city of Port-au-Prince, and even the president's official residence still laid in rubble.
"Every green space in that city is now a tent city," said Lewis, a North East, Md. resident who works as a nurse near Newark. She was in Haiti as part of a medical mission trip.
Still, she was inspired by the resiliency of the Haitian people.
"The people were all super nice and wanted us to be there," Lewis said. "They just wanted help, and that's all I want to do as a nurse – help people."
Lewis went to Haiti as part of a group organized by International Medical Relief, a Colorado-based nonprofit that provide medical, dental and surgical care to people in underprivileged nations around the world.
She said she got the urge to do something to help after the earthquake hit in January 2010 and finally decided to do so earlier this year. She canceled plans to go on a cruise and instead used her vacation time to go on the medical mission.
The trip cost her $2,300 out of pocket for transportation, food and shelter, but she raised much of the money through donations, including one from the Rotary Club of North East.
Lewis joined a group of nearly 30 people – some nurses or doctors, some non-medical support staff – from the United States, Canada and Australia for the eight-day trip.
The group traveled to schools and refugee camps to provide basic medical care, she said. Lewis, who along with the others treated up to 400 patients a day, said the need in Haiti is great.
"These people have access to nothing," she said. "Most of them are living in tents."
The most common problem was dehydration, especially among babies. The team also saw many mothers who were starving because they give what little food they have to their children.
While the patients stood in line for care – sometimes for hours at a time – some of the volunteers tried to teach them about nutrition, safe sex and other health topics. However, those were often heartbreaking conversations, Lewis said.
"It's sad because it's kind of hard to teach nutrition to people who don't have food," she said.
Lewis and the other volunteers stayed at a compound with people from other aid groups. They were told not to leave the compound without armed guards because there are still dangerous areas of the city.
Though her group was able to bring much-needed medical care to the Haitians, the country needs much more, Lewis said.
"It's still pretty desperate. They really don't have anything," she said. "The people are doing the best they can, but it's just a lack of infrastructure."
Lewis, who graduated with a nursing degree from Cecil College in 2009, said the trip to Haiti made her feel like she was really doing something to help people. While working in a hospital in the United States, is rewarding, the feeling she got from helping the Haitians was so much more.
She hopes to spend more of her vacations going on similar mission trips.
"I don't ever want to do a long vacation where I just veg out," she said. "I want to do something to help people."