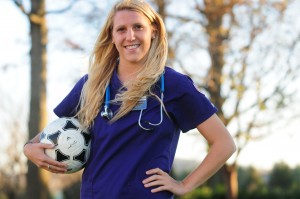 (The Breeze) For Katrina Berlin, juggling doesn't stop on the soccer field.
The junior balances her strenuous nursing major with soccer and several other extracurricular responsibilities.
To manage her workload, Berlin follows up most long days of obligation with a trip to the library. It isn't just a cram for the final exam; it's a typical day for Berlin.
"It's a lot of balance having a social life, soccer and nursing," Berlin said, "but I'm getting better at it." 
With soccer practice five days a week, two or three games every weekend, a long-distance boyfriend and the responsibility of social chair of her soccer team, Berlin has a range of extracurricular responsibilities in addition to her class schedule.
Berlin has classes from 8 a.m. to 3 p.m. Monday-Thursday, then soccer practice from 4 p.m. to 6 p.m. every day.
On Mondays, Berlin drives to the University of Virginia at 5 a.m. for her clinical instruction and doesn't return to JMU until around 3 p.m.
Nursing can also be a cutthroat major in of itself.
"Everyone in my class is really competitive," Berlin said. "You know they're the best of the best."
Berlin has longtime interest in both soccer and nursing. She started playing soccer at age four. She also grew up with a passion for health care because of her mom, who's a nurse.
"I remember studying for things like history that I just hated," Berlin said. "But studying for this I really like. Especially the medicines."
Considering the time commitment that nursing and soccer requires, everyone would tell her that it's just about impossible to pull off the two. But Berlin isn't quite ready to give up the things she loves.
Berlin's teammates are also understanding of her situation.
"School obviously comes first, especially in the semester that Kat's in right now," said Jackie Jacobson, president of the women's soccer club.
It helps that one of her teammates, senior Becca Guthrie, is also in her final semester as a nursing major and gives Berlin the confidence to pull off such a frenzied lifestyle.
"This semester isn't hard at all because I don't have any classes. It's basically all clinical," Guthrie said. "But in the past it was definitely a challenge. It was basically class all day and then the library and then practice and then back to the library and then repeat every day."
The team puts this philosophy to work, as it not only meets on the soccer field, but also in the library to study together.
Balancing her activities, Berlin has had success in both academics and in soccer. She has made the Dean's list for four straight semesters and the club soccer team recently won the national club soccer tournament in Memphis this month.
Though it is extracurricular, neither Guthrie nor Berlin could give up soccer. It helps them to get through the academic side.
"I need something else in my life to release the stress and balance it out," Berlin said.
Taking some time away from the library may be healthy, but Berlin still has to ensure that her priorities are in check.
"My teachers are understanding, but at the same time they're like, 'Well, it's up to you,'" Berlin said.
Like many athletes, Berlin sometimes has to coordinate make-up work with professors when the team travels to tournaments. But the extra effort she has to put in isn't a regular burden.
"Soccer affects nursing a lot less than nursing affects soccer," Berlin said.
Despite her obligations, Berlin doesn't settle for the minimum in soccer. She still manages to take on a leadership role within her team.
"She's the contact for all [other] club teams," Jacobson said. "She actually takes a lot of it on herself. Usually it goes through me but she does everything herself. She's a hard worker."
At the end of the day, Berlin fully embraces her activities. Soccer provides her with a dynamic that she needs.
"Soccer is just such a stress reliever," Berlin said. "Some of the girls in my nursing class, I love them all dearly, but it's like their lives are just nursing. And I can't do that."